April 27, 28 & 29 @ the Hardwick Town House
THURSDAY, FRIDAY & SATURDAY @ 7:30pm | SATURDAY MATINEE @ 2pm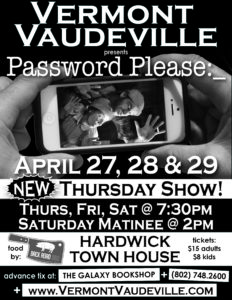 This April, Vermont Vaudeville is back at the Hardwick Town House with an all-new production: "Password Please:_". The snowbanks will be melted and the crocuses in bloom, and Vermonters should have a hankering for some fresh entertainment. If, of course, they can pass a two-step verification process, recite the last four digits of their social security number, enter their last three passwords, and name their childhood best friend's favorite day of the week. Hilarity awaits as Vermont Vaudeville loses its identity to the digital age. The show will feature new work from Brent and Maya McCoy and Modern Times Theater, as well as Vermont Vaudeville's House Band and surprise guests (#Acrobat, #Ventriloquist) from around New England.

Thursday Night is now Opening Night!
Due to popular demand we've added a show. Come support us on Opening Night: Thursday @ 7:30pm!
Guest Acts
Cate Great & more!
Back Road BBQ dishing up food all 4 nights & Saturday afternoon
Hardwick's own Back Road BBQ will set up their food truck and serve locally grown whole hog barbeque on the Town House lawn 2 hours before each show.  You don't even have to go to the show to enjoy their delicious food.
Tickets
Get your tickets in advance–these shows sell out!
In person: Galaxy Bookshop in downtown Hardwick
By phone: 1.888.757.5559
Online: CatamounTix.org
Directions & Parking
The Hardwick Town House is at 127 Church Street, Hardwick, Vermont
Google Map directions
Parking is available at the Town House, at the Town Garage, and on the street. Please follow the directions of our parking volunteers and all parking signs.